1.WHO ARE YOU? WHAT DO YOU DO? WHY?
MY NAME IS KATIA. I AM THE FOUNDER OF SHABASH STUDIO.
CREATION OF CLOTHING HAS BEEN PART OF MY LIFE FOR MORE THAN 10 YEARS NOW. I STARTED MY JOURNEY IN TRADITIONAL WORKSHOPS, WHERE I LEARNED THE CRAFT OF TAILORING AND FOUND MY PASSION. AT THAT POINT, MY DREAM WAS TO WORK FOR A BIG FASHION BRAND. I WAS FULL OF ENTHUSIASM AND HOPED THAT EACH STAGE OF GARMENT CREATION WOULD BE AN ART OF SOME SORT. THE REALITY TURNED OUT TO BE COMPLETELY DIFFERENT. THE MORE I LEARNED ABOUT THE MASS MARKET INDUSTRY FROM THE INSIDE, THE LESS I WANTED TO REMAIN A PART OF IT.
THIS EXPERIENCE ALLOWED ME TO LOOK AT THE PRODUCTION OF CLOTHING FROM A DIFFERENT PERSPECTIVE AND ENCOURAGED ME TO START A BRAND THAT WOULD NOT FORCE YOU TO CHOOSE BETWEEN FASHION AND AWARENESS.
SHABASH CREATES CONSCIOUS, MINIMALIST CLOTHING. GENDER-NEUTRAL PIECES THAT GO BEYOND THE DIFFERENCES BETWEEN WOMENSWEAR AND MENSWEAR WITHOUT SACRIFICING THE STYLE. ALL ITEMS ARE MADE TO BE EASILY MIXED AND MATCHED, WHICH ALLOWS YOU TO CREATE UNLIMITED COMBINATIONS. WE ARE ON A MISSION TO ESTABLISH A TIMELESS CAPSULE WARDROBE.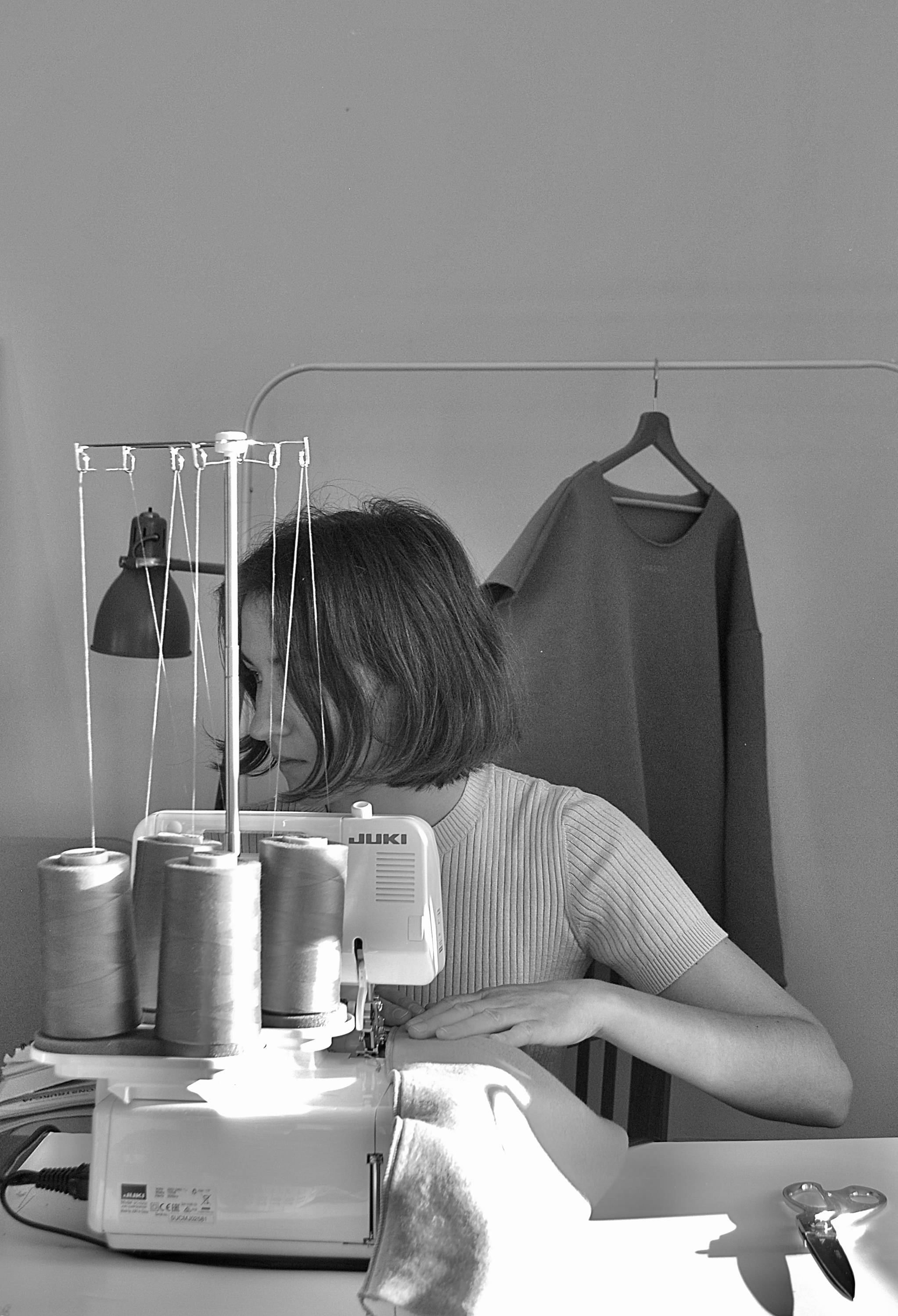 2.What does Shabash stand for?
The word "shabash" has several meanings. Its East Slavic original "шабаш" means "holiday" or "event". In classic Russian literature, which I like so much, this word is used as "enough" or "that's it". At the same time, in some languages of India, it is an expression of praise for an achievement, similar to "well done" and "bravo".
As a brand name, "shabash" stands for the end of the old view of fashion and creation of new clothing that cannot but inspire you to say "Bravo!"
The aim of Shabash Studio is to contribute to the sustainable, ethical approach in contemporary fashion. We believe it is important to rediscover craftsmanship and tailoring traditions. Shabash is proud to handcraft all garments in our Krakòw workshop and use only locally produced, certified materials.
3.What do you want to do when you grow up?
To tell you the truth, I don't know. Of course, now my priority is my studio and I want it to grow and be successful. I have many plans and ideas for it. But even more important for me is to stay flexible, to be driven by my passion, that's for sure! The worst thing you can do is to come up with a plan and then stick to it even if it makes no sense to you anymore. When I grow up I want to do… well, anything, as long as I believe in it 100% and it motivates me to develop my skills and character. There are so many amazing, creative things out there. So don't be surprised if in 5 or 10 years you will read an article about me designing some landscaping project *laughing*.
4.What advice would you give to someone wanting to build their own brand?
Number one: Don't wait too long. I have wasted many good ideas just because I thought I wasn't ready to implement them.
Number two: Don't produce something just because there is a demand for it on the market. Create things you personally need and believe in! This way you will be your own potential customer, and I bet you know yourself pretty well. This way you will also have a lot of fun while building your brand.
Number three: Better done than perfect. This one can lead you to results much more exciting than the illusory perfection we are so afraid not to deliver before we even start doing anything.